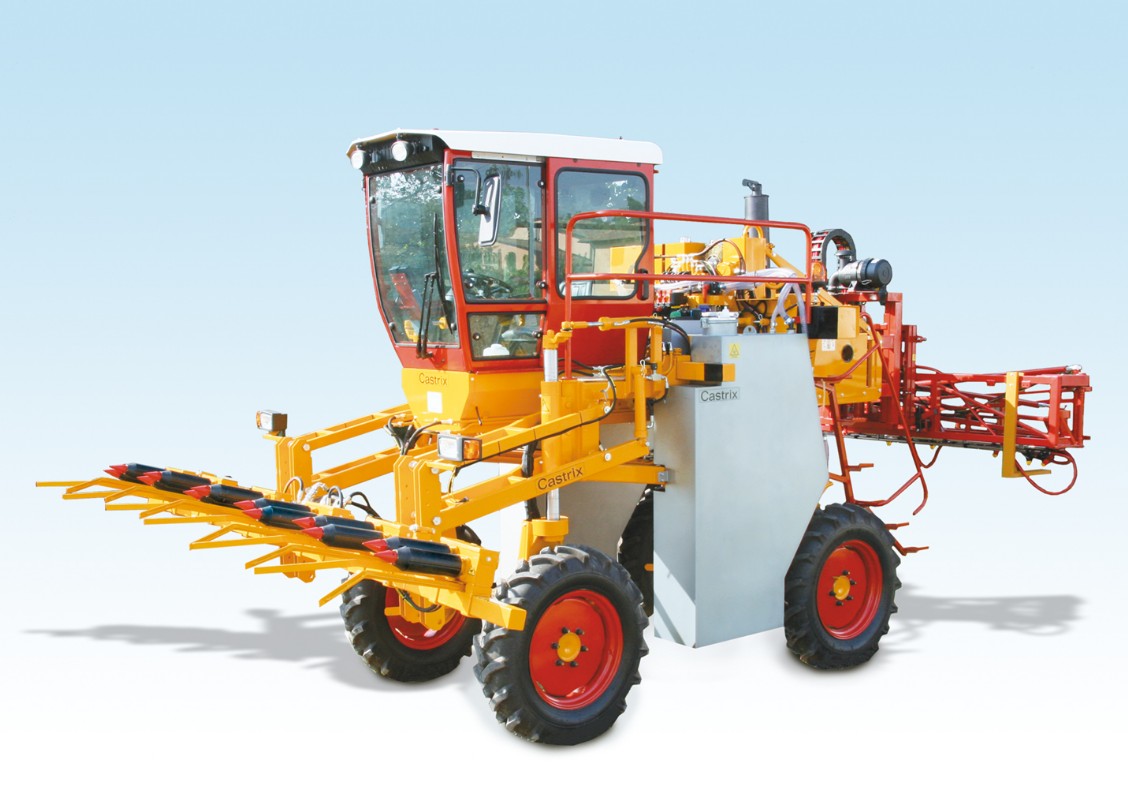 Self propelled machine with 4 driving wheels and hydrostatic traction obtained using engines "Poclain" on wheels.
The variable carriageway allows the shifting of the wheels up to 60 Cm.
It can be equipped with different types of emasculation bars: cut by knives or discs, pull with roller. All bars are split 2 + 2 or 3 + 3 and allow the mounting of the photocells (electronic eye) for automatic processing.
The production rate is about 3 ha with cutting bars and about 2 ha with rollers bar.
It is also possible to mount on machine a spray boom for phytosanitary treatments of the cultivation.

ENGINE


DEUTZ TD2011L04 57.6 kW or DEUTZ TD 2.9 55.4 kW

TRACTION


Fully hydrostatic on 4 driving wheels with radial piston hydraulic motors and Twin Lock system.

Hydraulic variable from a minimum of 160 cm to a maximum of 220 cm.

STEERING


2 steering wheels (front) with hydrostatic system and power steering

HYDRAULIC OIL TANK

140 litres


Pneumatic

FRAME STRUCTURE

200 x 200 mm, square tubular 200×100 mm or 100 x 100 mm.

GROUND CLEARANCE

160 cm.

TYRES DIMENSION

Measure 11.2-24 TT High traction

STARTER

Electric with battery 12 V

PULLING BAR

Equipped with rollers for 6 or 8 rows (3 + 3 or 4 + 4)

CUTTING BAR

Equipped with knives for 6 or 8 rows (3 + 3 or 4 + 4)

CABIN

Air conditioned and active carbon filters or ROPS pressurized

TREATMENT OPTION

1-Central tank Lt. 1000 Ca; hydraulic boom 15 Mt; 137 pump Lt./min.
2-With 2 lateral tanks Lt. 600 total; hydraulic spraying bar 15 Mt;
spraying pump capacity 137 Lt./min.