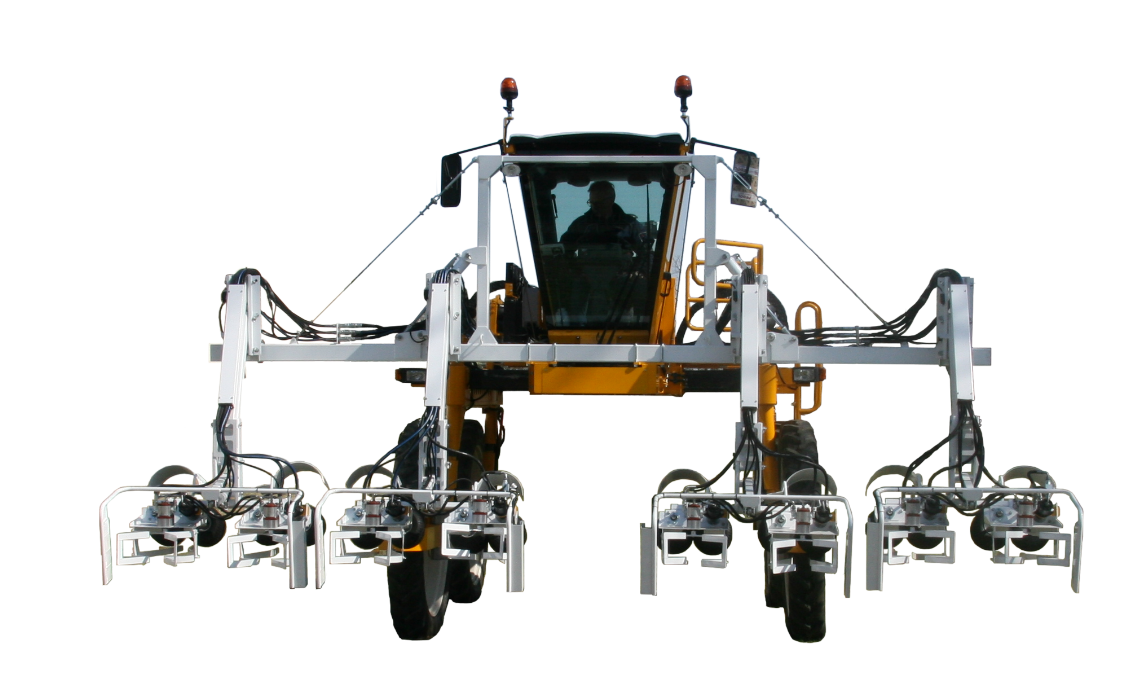 A self propelled machine on 4 driving wheels with hydrostatic traction provided by engines "Poclain" on wheels
that are equipped with a Twin Lock system that prevents the wheels from skidding on wet and slippery ground.
The variable carriageway permits the shifting of the wheels from 200 cm. to 315 cm. simply acting on a button,
without the need for any mechanical operation.
The CASTRIX S5 Matic machine is equipped with a "combo" type emasculating bar, which simultaneously mounts the cutting and tearing devices. The bar can have 6 or 8 rows.
The operator chooses the type of operation to be carried out by operating a lever on the emasculating bar.
Moreover, like all the recent models produced, this machine is equipped with a CAN-BUS system for the management of the hydraulic functions (widening and narrowing of the track, rotation of the emasculating arms, etc.), of the working settings (setting of the maximum speed, response to acceleration, etc.) and detection of any problems with identification of the circuit subject to malfunction.
This model is equipped with 4 steered wheels, where the front wheels are, of course, always steered, while the rear wheels steer if the operator so requires, making the machine easily manoeuvrable in otherwise difficult conditions, allowing you to have a turning radius significantly reduced compared to the overall dimensions of the machine.
The wheels are 270/95 R 48 (diameter 170 cm.) and the ground clearance under the chassis is 192 cm.
In addition, this model is equipped with a pressurised ROPS cab (or alternatively the cab can only be air-conditioned).
| | |
| --- | --- |
| ENGINE | DEUTZ TCD 3.6 100 Kw. |
| | |
| TRACTION | Fully hydrostatic on 4 driving wheels with radial piston hydraulic motors and Twin Lock system. |
| | Hydraulic variable from a minimum of 195 cm to a maximum of 315 cm. |
| STEERING | 4 steering wheels with hydrostatic system and power steering |
| HYDRAULIC OIL TANK | 160 litres |
| | Pneumatic on both axes |
| FRAME STRUCTURE | Laser cut 200 x 200 mm, square tubular 200×100 mm or 100 x 100 mm. |
| GROUND CLEARANCE | 192 cm. |
| TYRES DIMENSION | 270/95 R 48 - TL High traction (170 cm. diameter) |
| STARTER | Electric with battery 12 V |
| DETASSELING BARS | "Combo" type with knives and rubber wheels for 6 or 8 rows (2+2+2 or 2+2+2+2) |
| ARMS LEVELLING | Automatic with photocells |
| | ROPS (Roll Over Protection Structures) approved, pressurized and air-conditioned |