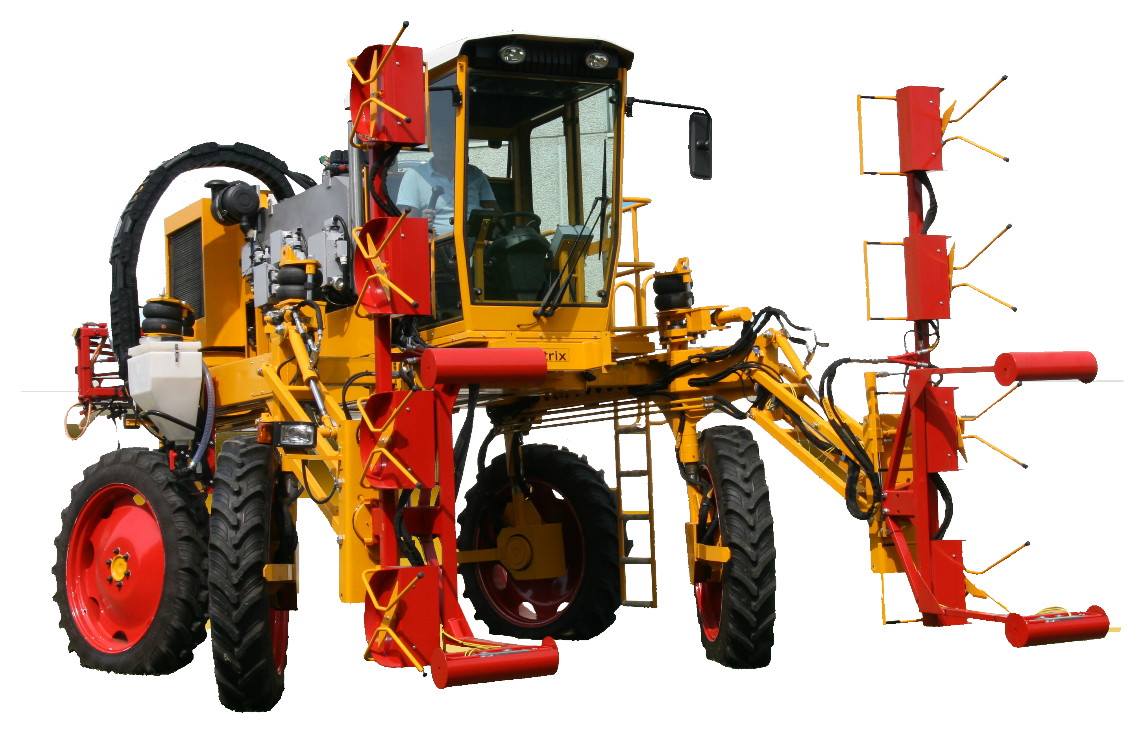 A self propelled machine on 4 driving wheels with hydrostatic traction provided by engines "Poclain" on wheels.
The variable carriageway permits the shifting of the wheels up to 120 cm simply acting on a lever.
Can be equipped with different types of bars emasculatrici: a cut by knives or roller. All bars are splitted 3 + 3 or 4 + 4 and allow the mounting of the photocells (electronic eye) for automatic processing.
The production rate is about 4ha with cutting bars and approximately 3ha with roller bars. It is also possible to mount on machine a spray boom for pesticides to crops.
ENGINE

DEUTZ TCD 3.6 100 kW.

TRACTION


Fully hydrostatic on 4 driving wheels with radial piston hydraulic motors and Twin Lock system.

Hydraulic variable from a minimum of 195 cm to a maximum of 315 cm.

STEERING

4 steering wheels with hydrostatic system and power steering

HYDRAULIC OIL TANK

160 litres


Pneumatic on both axes

FRAME STRUCTURE

Laser cut 200 x 200 mm, square tubular 200×100 mm or 100 x 100 mm.

GROUND CLEARANCE

170 cm.

TYRES DIMENSION

270/95 R 38 - TL High traction

STARTER

Electric with battery 12 V

PULLING BARS

Equipped with rollers for 6 or 8 rows (3 + 3 or 4 + 4)

CUTTING BAR

Equipped with knives for 6 or 8 rows (3 + 3 or 4 + 4)

ARMS LEVELLING

Automatic with photocells


WATER TANK

1500 liters

SPRAYING BAR

Fully hydraulic opening / closing and lifting / lowering system

, 12, 15 or 18 meters length with noozles TREJET and

descents for the distribution of the product

ROPS (Roll Over Protection Structures) approved, pressurized and air-conditioned