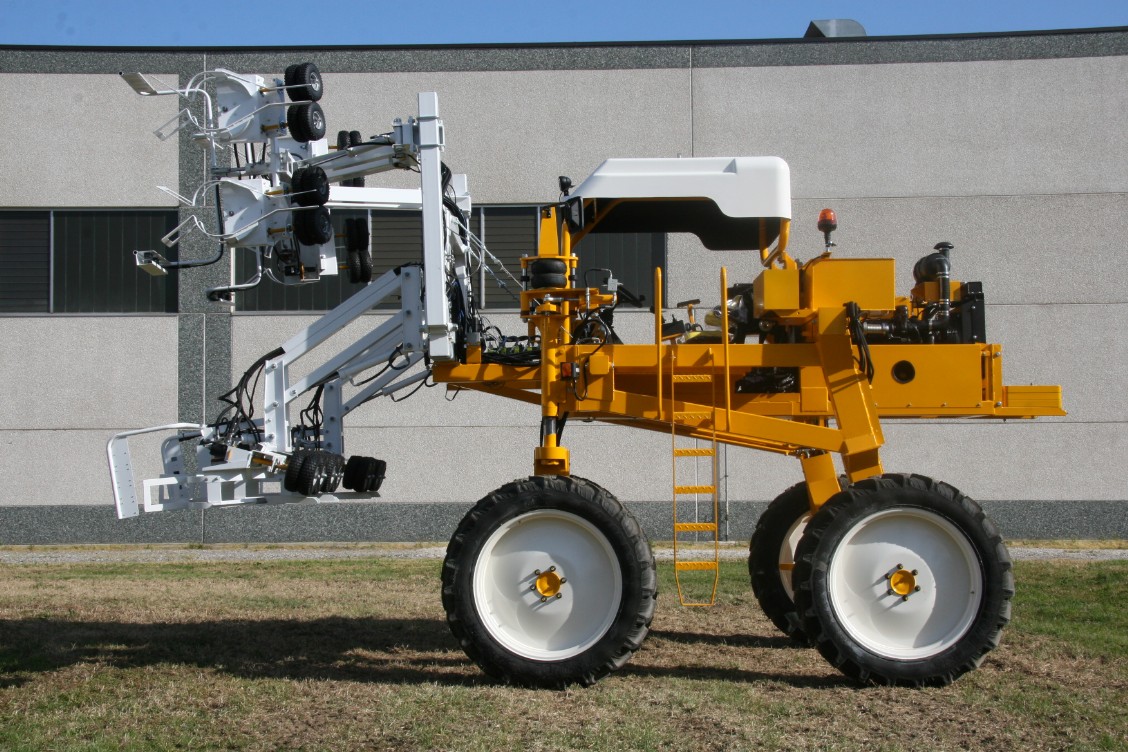 A self propelled machine on 4 driving wheels with hydrostatic traction provided by engines "Poclain" on wheels
that are equipped with a Twin Lock system that prevents the wheels from skidding on wet and slippery ground.
The variable carriageway permits the shifting of the wheels from 200 cm. to 315 cm. simply acting on a button,
without the need for any mechanical operation.
The CASTRIX S5 Matic machine is equipped with a "combo" type emasculating bar, which simultaneously mounts the cutting and tearing devices. The bar can have 6 or 8 rows.
The operator chooses the type of operation to be carried out by operating a lever on the emasculating bar.
Moreover, like all the recent models produced, this machine is equipped with a CAN-BUS system for the management of the hydraulic functions (widening and narrowing of the track, rotation of the emasculating arms, etc.), of the working settings (setting of the maximum speed, response to acceleration, etc.) and detection of any problems with identification of the circuit subject to malfunction.
This model can also be equipped with standard detasseling bar on 6 rows (2+2+2) or 8 rows (2+2+2+2) with knives, rubber rollers or rubber wheels.
This model can be equipped with wheels 270/95 R 36 (diameter 140 cm.) or 11.2.24.
ENGINE


DEUTZ TD2011L04 57.6 kW or DEUTZ TD 2.9 55.4 kW

TRACTION


Fully hydrostatic on 4 driving wheels with radial piston hydraulic motors and Twin Lock system.

Hydraulic variable from a minimum of 200 cm to a maximum of 310 cm.

STEERING


2 steering wheels (front) with hydrostatic system and power steering

HYDRAULIC OIL TANK

140 litres


Pneumatic

FRAME STRUCTURE

200 x 200 mm, square tubular 200×100 mm or 100 x 100 mm.

GROUND CLEARANCE

170 cm.

TYRES DIMENSION

Measure 11.2-24 TT High traction or 270/95 R 36 (140 cm diameter)




STARTER

Electric with battery 12 V

TOOLBAR

It can be equipped with equipped with 6 or 4 pairs of rubber wheels or 6 or 4 knives at a distance of 70 cm, 75 cm or 80 cm between rows (6 or 8 rows). The distance between every pull element or cut element can be adjusted as needed.
Other measures on commission.

ARMS LEVELLING

Automatic with photocells

ACCESSORIES

Rear seats for eventual manual finishing