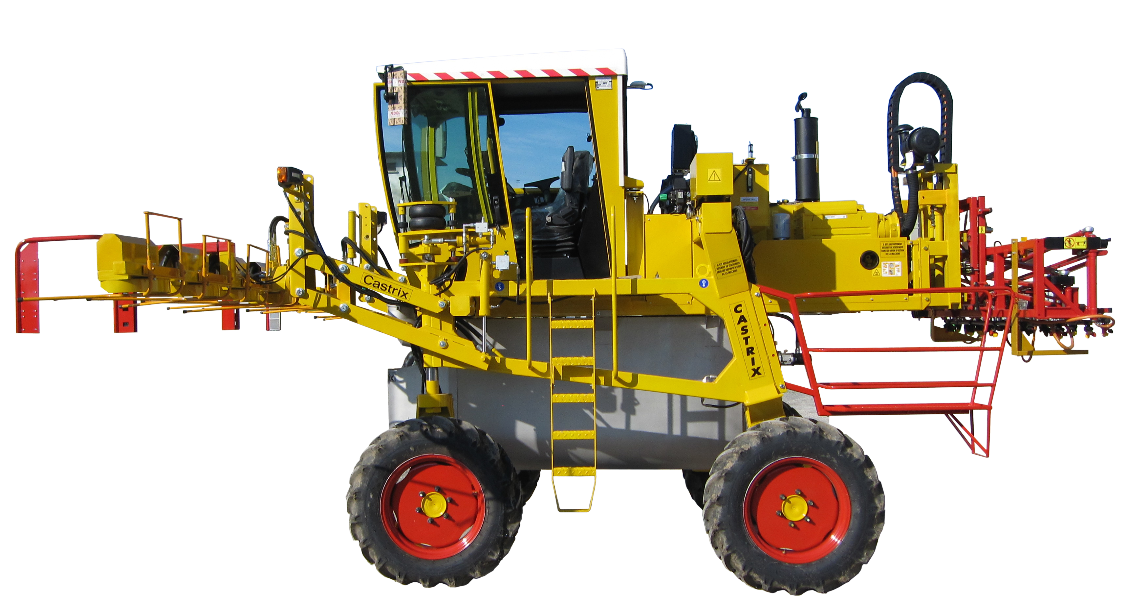 A self propelled machine on 4 driving wheels with hydrostatic traction provided by engines "Poclain" on wheels.
The variable carriageway permits the shifting of the wheels up to 100 cm simply acting on a lever.
It can be equipped with different types of detasseling bars: cut by knives, pull through discs or rollers. All bars are 3 + 3 or 4 + 4 and allow the mounting of the photocells (electronic eye) for automatic processing.
ENGINE


DEUTZ TD2011L04 57.6 kW or DEUTZ TD 2.9 55.4 kW

TRACTION


Fully hydrostatic on 4 driving wheels with radial piston hydraulic motors and Twin Lock system.

Hydraulic variable from a minimum of 200 cm to a maximum of 310 cm.

STEERING


2 steering wheels (front) with hydrostatic system and power steering

HYDRAULIC OIL TANK

140 litres


Pneumatic

FRAME STRUCTURE

200 x 200 mm, square tubular 200×100 mm or 100 x 100 mm.

GROUND CLEARANCE

170 cm.

TYRES DIMENSION

Measure 11.2-24 TT High Traction

STARTER

Electric with battery 12 V

PULLING BAR

Equipped with rollers for 6 or 8 rows (3 + 3 or 4 + 4)

CUTTING BAR

Equipped with knives for 6 or 8 rows (3 + 3 or 4 + 4)

1000 liters

Fully hydraulic opening / closing and lifting / lowering system

, 12, or 15 meters length with noozles TREJET and

descents for the distribution of the product

ACCESSORIES


Photocells for automatic castration work